As major of us already know that Microsoft's operating system gets major feature updates on a semi-annual cycle. Generally we receive these updates in the month of April and October of each year, & this fall Microsoft is soon going to release Windows 10 v1909 for us.
Windows 10 version 1909, released as v19H2 for Insider Program, is a smaller update than any other major release in this semi-annual release cycle. The build number for this release is 18363, which is just one number higher than the build number for version 1903.
The two versions will even receive all the same cumulative update packages, so you'll see the same build revision number for both builds, which means when a cumulative update is released, you'll see 18362.xxx if you're running version 1903, and 18363.xxx on version 1909, with the xxx digits being the same for both updates.
Having so much in common with the previous version of Windows 10 also means there aren't that many new features here. Nonetheless, let's take a look at what will be different once you get this update.
Also Read: Windows 10 Build 18362.329 is now available, download offline installers
What's New?
Notifications:
A number of improvements have been made on notifications in Windows 10 version 1909. For starters, it's now easier to get to your notification settings thanks to a new "Manage notifications" link in the Action Center. You will also have a new button in each notification if you want to change settings for a specific app, which you can click to go directly into that app's settings.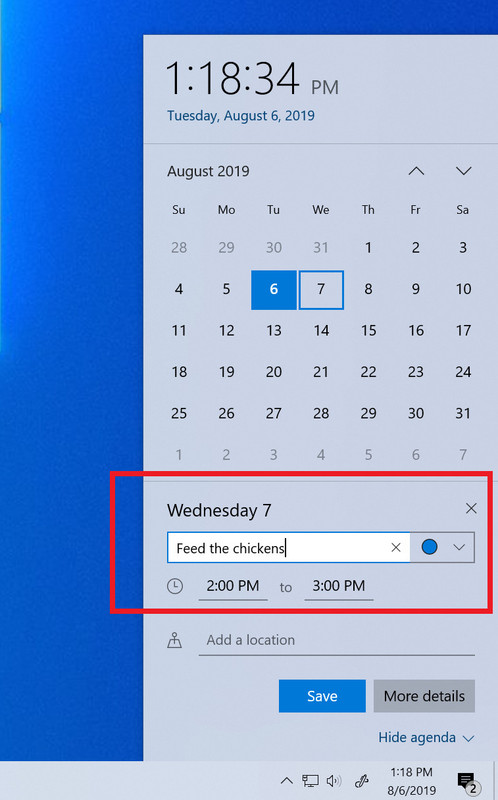 Once you get to the notifications page in the Settings app, there are some more changes. Also, Global settings are released for turning off the sounds of notification. This way, you don't have to stop notifications entirely, or mute sound on a per-app basis. The list of notification senders is also now sorted by most recent, so you can more easily find settings for an app that sent you a notification more recently.
If you go into the settings for each app, you'll also notice some new imagery to represent notifications in the Action Center and notification banners.
Tips: How to Force Dark Mode on Web Pages in Google Chrome?
Lockscreen & Desktop:
Microsoft has also made some improvements to UI and UX on the desktop. E.g. the calendar flyout in the system tray can now be used to quickly create new calendar events, so you don't have to open the Calendar app to do it. You can choose a name, label (defined by color), time, and location for the event, or jump into the Calendar app if you need more details.
In Start, you'll notice that when you hover a little longer over any of the options on the sidebar, such as the power menu, the sidebar will now expand over the apps list, displaying text for each of the options.
File Explorer also features improved search now, powered by Windows Search itself. This helps integrate OneDrive content into search results.
The lock screen has received an under-the-hood change, which will let third-party assistants be activated by voice on top of the lock screen. This likely won't change anything right away, but it opens the door for deeper integration with digital assistants such as Alexa.
Also Read: Samsung Galaxy Fold Launched in India for Rs. 1.65 Lakh 😂
Other Minor Improvements:
There's a handful of improvements in Windows 10 version 1909 in addition to the ones above. Devices with older processors may see improved battery life and overall power efficiency. Microsoft had also made changes where work is distributed across a processor's "favored" cores more fairly.
There are also some fixes for Windows containers, which previously required the host and the container to be on the same version. It's now possible to use down-level containers.
For accessibility, the Narrator and other assistive technologies will now be able to read where the FN key is on keyboards, and whether it is activated or not.
Tips: Cloud-Reset Now Available for Windows 10 Insider Preview 20H1
Enterprise & OEM:
In addition to these consumer-facing features, there are some improvements for businesses and OEMs, such as Windows Defender Credential Guard support for ARM64 devices, which should make it easier to deploy ARM-based products in enterprises. This aligns well with the release of the Surface Pro X, Microsoft's first Windows on ARM device since Windows RT.
As there are no specific confirmations of upcoming features from Microsoft, there may be some additional improvements & optimizations in Windows for Surface & Other Devices is also rumored. Microsoft is said to have to work with the Next-Gen Windows 10X for its new foldable surface lineup along with other device manufactures support. What do you think about Microsoft's plan to improve Windows 10, do let us know from the comment section below?
Featured Image: Neowin